Montreal, Quebec
Screenprints, Etchings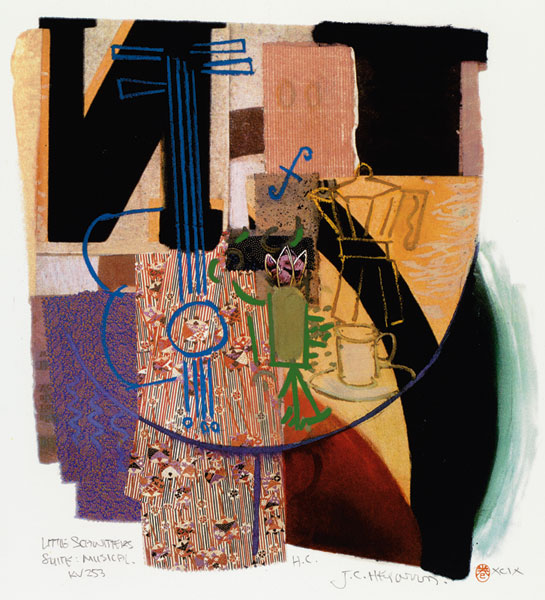 Carl (J.C.) Heywood has been creating art for over forty years. His passion and devotion to printmaking is evident in a large body of work that spans his career. His prints, whether they are executed through the processes associated with etching, lithography, a screen or digital means, provide an opportunity for discourse in relation to their origin, relationship to one another, and the process of execution. Augmented with several recent paintings this exhibition is a showcase of extravagant production of artworks that display multiple approaches to working with colour, texture and format.




John Carl Heywood was born in 1941 in Toronto. Following high school, he enrolled in the Ontario College of Art and began his formal art education in drawing, painting and printmaking. He moved to Paris, France in 1967 and worked for four years doing etching at S.W. Hayter's Atelier 17. It was there that he fine tuned his printmaking expertise, met fellow Canadian artist Irene F. Whittome and, launched his artistic career. He returned to Canada in 1973. He is one of the most respected printmakers working in Canada today. He brings to his work a strong architectural style, a passion for print making processes and an endless desire to evolve his imagery. His work is included in the National Gallery of Canada in Ottawa, the Victoria & Albert Museum in London, England, the Metropolitan Museum in New York City, the Musée d'Art Moderne, Paris, France, and the Art Gallery of Ontario.
View full CV
---
Archive Contemporary
2471 Rue Centre,
Montreal, QC H3K 1J9

Archive Contemporary is a fine art gallery based in Montreal. The gallery provides a platform for established and emerging artistic talent, promoting visibility through monthly group and solo exhibitions. Archive Contemporary also hosts events centered around discourse, creative career development and community building through its artist-led educational programming.

maela@archivec.art
T. 514.549.8885
Open by Appointment
Ouvert sur Rendezvous